Hello again everyone!
Today I am blogging about Morgana Minerals. Morgana Minerals is a small little company based in Arizona and is run by a woman named Melissa. The company's website is pretty easy to navigate, and you can make a wish list of all the pretty-sparkly-omgiwant stuff. There is also a forum, but it is rarely active :/
I was posting a bunch of reviews one night of the lipsticks on Morgana's website and I got an email the next morning from Melissa thanking me for the good reviews and asked if I wanted to pre-order the Azaela Blue vegan lipstick. Ooohhh I SOO wanted it (and it was very nice of her to have contacted me from my 3498439 reviews on her site!), but didn't have the money, so a lucky person stole/bought my potential lipstick :(
That's as far as I've gotten with customer service. She was really nice when I talked to her for that brief time. I don't think I've seen a bad review of MM yet, so don't be scared to try them! Even if you have all the eyeshadows in the world, at least TRY THE LIPSTICKS! THEY'RE AMAZING!
Anyway.
I have only placed two orders with Morgana, but have not been disappointed! Both my orders were around $20 and I was loaded with sample ammunition. The first order consisted of only Vegan Lipstick samples. My second order had eyeshadow samples and lipstick samples. Her eyeshadow samples are pretty generous, I want to say about the same amount as Aromaleigh (maybe?) and cost $1. Oh yeah and her vegan lipstick samples are only FIFTY CENTS! Yeah, that's why I went ape-shit on lipstick samples both times. Some of the colors I will probably never go out in public with, but hey, it was only $.50, and it'll come in handy for SOMETHING, SOMEDAY...heehee xD
I haven't played around too much with the eyeshadows...I did swatch them on my hand when I first got them but they've been stored in my sample binder since!
I have worn Port Royale and Druscilla's sister in the past few days, and my my, they are beautiful colors!! I've also used Intense Turquoise Glow as a highlighter and it has a nice effect in the sunlight.
Now that I am starting to get a hang of the Pixie Epoxy, I'm definitely going to start using Morgana's colors. You'll see by my swatches how amazing they turn out with the Epoxy!
This post will be strictly for the Morgana Minerals EYESHADOWS.
Here we go!!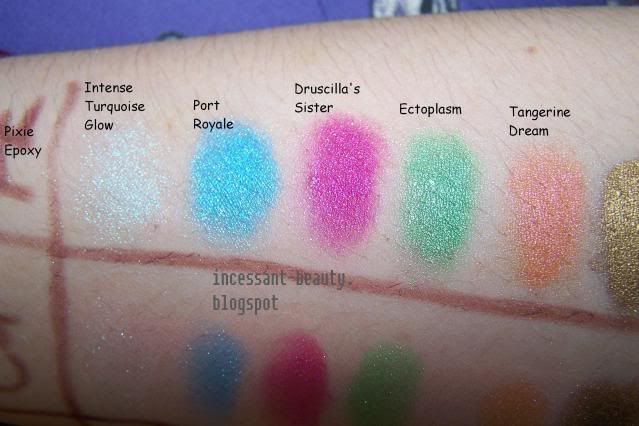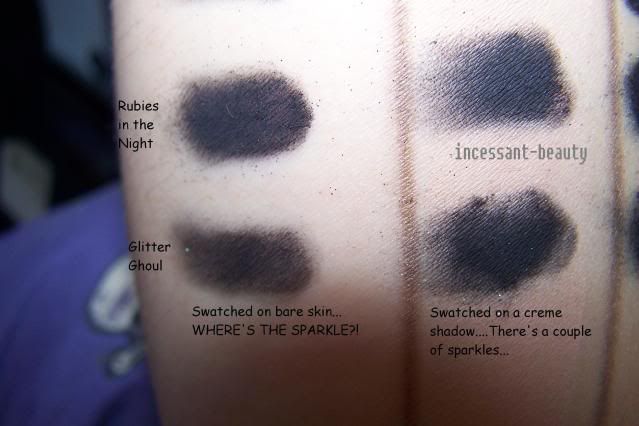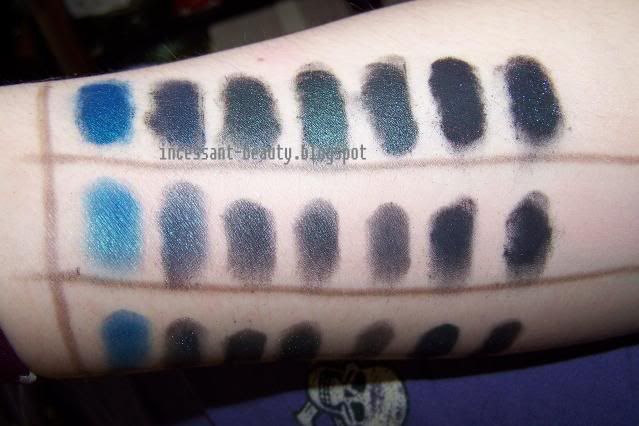 I would have to say my
ABSOLUTE FAVORITES [I NEED FULLSIZES OF]
are:
Druscilla's Sister-
Hot pink with turquoise sparks!
Tangerine Dream-
It looks orange but when worn with a primer, it has a pink sheen to it...a good summer color!
Broomstick-
It's a blue-ish teal color...very different with a primer vs pixie epoxy
Rubies in the Night-
Should've been named Black Widow. It's matte black with red sparks...mmm yummy!
Glitter Ghoul-
THE best black/sparkle eyeshadow I've ever seen. Maybe it's just 'cause it has pink, purple and aqua sparks, which is very different from the usual pink/red, blue/green, pink/purple matchy-matchy sparkle black shades!
Hope you enjoyed my review and take my swatches into consideration for your first/next Morgana order!