Greetings! I am back from my hiatus! In the next couple of weeks, I will be giving you an inside scoop of what I have been up to. There will be a rainstorm of pictures and stories from the past few months! Definitely stay tuned and keep looking for more posts by me!
Like me on facebook so you don't miss out on my posts!
Now, back to business.
Alright, so I have to tell you about this product I've found on the shelves at my store. This is distributed by NOW Foods, which is one of the biggest supplement companies most health food stores carry. Some of their line extends into grocery, as well as body care.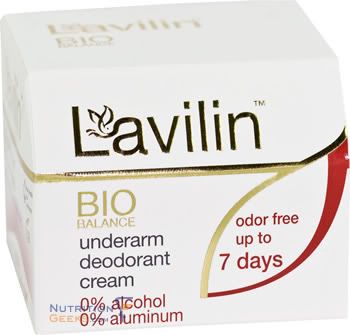 Lavilin is a body deodorant, and looking at their site they have a few other options too (like a roll on!). It comes in a small jar and spatula to apply the product to your fingers, then you rub a layer of it onto your pit. I didn't notice an actual scent, and it reminds me of like a creamy chalk. It does leave a slightly white residue, but it went away by the next morning. I think my first application was a little too much (
a little goes a
LONG
way!
), but I still have noticed no smell and I have been wearing it for almost 2 full days now. The jar says it can last up to 7 days and is waterproof! I'm thinking when I can have the mental obedience to not shave and wax my underarms, this may last even longer.
The directions do say let your pits breathe for at least 48 hours from your last application of your old deodorant before applying theirs, but I waited overnight then put it on the next morning, and I still have great results. I was using some other natural deodorants from work, so I doubt I had that much deodorant build-up/residue to wash off.
Ingredients?
Ricinus Communis (Castor) Seed Oil & Hydrogenated Castor Oil & Copernica Cerifera (Carnauba) Wax, Talc (pharma), Zinc Oxide, Potato Starch (modified), ethylhexylglycerin, triethyl citrate, chamomilla recutita (matricaria) extract; glycine soya, calendula officinalis flower extract, arnica montana flower extract, tocopherol, tetrasodium EDTA (tetrasodium edetate dihydrate), fragrance, O-Cymen-5-Ol.
Yes, there is pharmaceutical grade talc in there, and that is most likely what's giving that strange texture in which this product has, as well as the waterproof properties. I'm not completely against talc, but for those of you that are, then I would advise not trying this.
A quick search on the O-Cymen-5-Ol shows that it's a type of preservative to inhibit growth of microorganisms which helps keep odor at bay, as well as helps cleanse skin. Very interesting! AND NO PARABENS.
Seeing as the base is Castor oil, I find that it's not just good for, but nourishing for the skin. And arnica, regardless of how small of a percentage there is in their formula, is great for the healing of skin as well!
This retails for about
14.99
at my store, and it shows about
17.00
retail on the Lavilin site. I'm sure you can find this on Amazon as well.
I'm definitely interested in trying out some of their other products too.
Have any of you tried Lavilin?